El premio le fue otorgado por el Brantley Scott Physician Academy y entregado por el Dr Steven K. Wilson en una ceremonia durante el trascurso del congreso anual de la American Urological Association (AUA) celebrado en Nueva Orleans los días 15 -19 de mayo de 2015.
A modo de presentación el Dr Wilson pronunció un discurso sobre la trayectoria profesional del Dr Moncada que reproducimos a continuación en versión original:
Today I consider Ignacio one of my children and he is the youngest person to ever win this award. I don't remember his childhood in Zaragoza Spain where he did all his schooling. I never knew his mother but I remember the first time I met this curly haired, handsome Spaniard. He was a chief resident at the prestigious Gregorio Marañon Hospital in Madrid in 1992. The chief of service was Carlos Hernandez and I was there to proctor his boss in how to do a penile implant. In those days English was an underutilized language in Spain. Ignacio's English was terrific because he had taken a fellowship with Dr Goldstein in Boston in 1990. His boss, Carlos spoke English poorly and young Nacho was basically our translator. After graduation, Carlos appointed Ignacio as an attending. I came a couple of more times for proctoring surgery and eventually the boss gave up on implants and appointed young Moncada the head of the newly developed Andrology unit of the hospital. It was the first one in Spain and it was notable because of its location at the prestigious Madrid Hospital. Over time it became the tertiary referral center for prosthetics in Spain.
Nacho stayed at this hospital over 20 years. During this time he also accomplished a fellowship in transgender surgery under David Ralph and a clinical fellowship with Mariano Rossello, inventor of the cavernotome. Despite a full clinical practice, he did extensive laboratory investigations on Nitric Oxide and the physiology of erection with one of his best friends Inigo de Tejada, another Goldstein fellow. Together they published some of the real paradigm shifting basic science works.
Dr Moncada has also published extensively in the clinical arena with notable review articles for EAU Guidelines & EAU Updates, European Urology and the Journal of Sexual Medicine. From his 100 peer-reviewed contributions I consider his most notable contributions to our field of prosthetic urology to be:
He was the first to recognize the concept of centers of excellence in prosthetic urology and published improved outcomes from centers that did high volume versus occasional implanters.

He was the first to publish utilizing MRI as a diagnostic tool for imaging prosthetic devices.

He was the first to abandon serial dilatation of the corpora utilizing one pass with the Furlow as all that is necessary.

He was one of the first to advocate the AMS 1500 or the placement of an IPP and AUS through the same scrotal incision.

He was one of the first to publish the tunnel technique of implanting a patient with corporal fibrosis.
Ignacio has done over a thousand IPP and AUS implants in a country where reimbursement is notoriously difficult. After over 20 years as an andrologist he has moved on to health management achieving diplomas in Senior Management and a Masters of Health Care Management. While he has achieved increasing levels of authority in hospital management, his clinical interest in andrology and implants have persisted. He is still one of the most prolific implanters in Europe and an active participant in our world sexual medicine meetings. I am so very proud to introduce to you Dr Ignacio Moncada.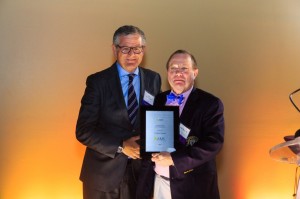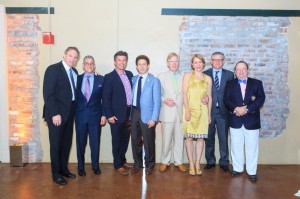 En agradecimiento el Dr Moncada pronunció el siguiente discurso al recoger el premio:
I feel deeply honored to receive this prize, and to be in the company of a such a distinguished group of physicians. Thank you for giving me this award.
First and foremost I would like to thank AMS for proposing me for this award, ours has been a long professional relationship based on respect and mutual commitment to medical care and innovation. I am also grateful for the kind words of introduction from Steve Wilson whom I deeply respect and I am fortunate enough to call a friend. We have met many times over the years, collaborating on different studies and coinciding at international meetings around the world.
My medical career began in a large public hospital in Madrid Spain where the Urology Department has a long tradition of excellence. It was perhaps the best place to do my medical training as I experienced the golden years of the field of sexual medicine, with ground-breaking developments in a short period of time. I was very lucky to have a Head of department, Carlos Hernandez who wanted to give doctors in his team the chance to participate actively in this new field of Urology and when he opened an Andrology Unit he named me Director at a young age. I have always been extremely grateful to him for this opportunity.
In recent years my professional activity has been as Head of the Urology Department in La Zarzuela, a private hospital in Madrid which belongs to the BUPA group. A whole new set of challenges which have renewed my passion for the field and which have brought me great satisfaction. I have a wonderful team of professionals working with me and I am proud of our achievements to date.
Finally I would like to thank my family, especially my wife Elsa and my children for their constant support. I look forward to many more fulfilling years of work ahead.