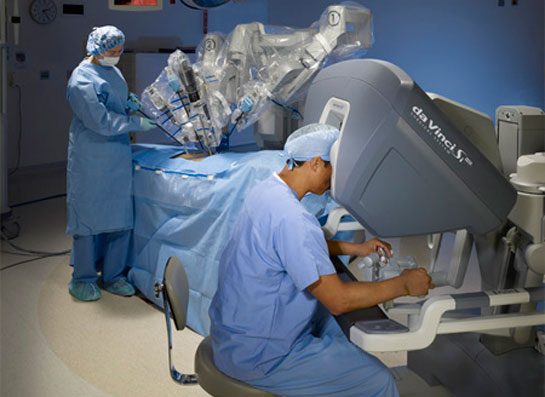 Robotic surgery for prostate and bladder cancer
Urological conditions that can be treated with this surgery
There are various procedures in general and oncological urology that can be carried out using this technique:
Advanced Radical Robotic Prosthatectomy (prostate cancer).
Radical or partical Robotic Nefrectomy (kidney cancer).
Radical Robotic Cystectomy (cancer of the bladder).
Robotic Colposacropexia (prolapse of pelvic organs with or without urinary incontinence).
Robotic Pyeloplasty (Stenosis of the Pyelouretheral union)
Using the Da Vinci Operating System
Prostate surgery using this technique is minimally invasive since the device is introduced through very small incisions. Blood transfusions are rarely needed and analgesic medication when required is minimal. The hospitalization is around 2 to 3 days. The patient is discharged and instructed to walk frequently and usually returns to the hospital 7 days later so we can take out the urinary catheter in a 5 minutes outpatient procedure.
Recovery post-surgery
Our surgical method is particularly outstanding in the way it reduces to a minimum the effects of the treatment on intestinal, urinary and sexual function.
Intestinal symptoms, which can be a problematic side effect in radiotherapy, only appear in less than 2% of patients that undergo this type of surgery.
75% of the patients that experience normal sexual function before the surgery weere able to go recover normal sexual activity in the 6 months following the surgery. Two years later this percentage rises to 85%.
The recovery of urinary continence, which can be problematic with conventional open prostatectomy and laparoscopic surgery also improves with robotic surgery.